Dr Shwetha's Clinic
Dental | Skin | Hair | Laser | Body
The skin is the body's largest organ, made of water, protein, fats and minerals. Your skin protects your body from germs and regulates body temperature. Nerves in the skin help you feel sensations like hot and cold. Chemical composition, the skin is made up from about 70% water, 25% proteins and 3% lipids. The reminder includes minerals, nucleic acids, glucosamines, proteoglycans and numerous other chemicals. Skin has several protective functions
So it's our duty to protect our skin and make our skin look healthy and more beautiful. Our skin is an instant indicator of overall health – of course you want it to glow as a reflection of how well you feel. If your skin has started to show wear and tear from sun, aging, acne or other skin conditions there is much that can be done.
The Cosmetic Skin Clinic, our sought-after doctors specialize in non-surgical medical aesthetic treatments. We are experts in the 'less is more' approach and technical artistry to achieve natural, understated, yet rejuvenated results.
From skin whitening , botox, Dermal Fillers,, body sculpting, Ultherapy skin tightening, Anti-wrinkle injections,pimple treatment ,dark spot treatment , inchloss, laser hair removal etc , we cater for all your unique skin and body needs. Our highly experienced and trusted practitioners provide the very best innovative techniques, technologies, and patient care that non-surgical cosmetic medicine can offer.
Whether your concerns are wrinkles and lines, pigmentation, loss of elasticity or volume to the face, thread veins and body sculpting, we have the expertise. We can help you achieve natural and beautiful results with our winning combination of innovative treatments and expert knowledge and experience.
The Cosmetic Skin Clinic by creating a successful holistic approach for bespoke beautification. With over 14 years' experience, we have established a high standard approach to sculpting, beautifying and subtly enhancing every individual's best assets to reflect their unique personality. Our bespoke method combines treatments to create a balanced and natural look to maximize each individual's beauty.
Dr. Shwetha Kakkerla
DENTAL SURGEON, ORAL IMPLANTOLOGIST & MEDICAL , COSMETOLOGIST, FICOI M.S. IMPLANTOLOGY, UCLA USA, PGCOI (MANIPAL), DIP. ADVANCE IMPLANT SURGERY (EUROPE), AMERICAN BOARD OF AESTHETIC MEDICINE FAM, (DUBAI) Dr. Shwetha K achieved her BDS degree from OXFORD DENTAL COLLEGE affiliated to RGUHS Bangalore. She has done Masters Clinical program in Oral Implantology from UCLA Los Angles USA in 2011. Dr. Shwetha K started Dr. Shwetha's Dental & Implant Centre in order to incorporate the latest dental technologies into the most relaxing environment possible while providing quality dental service. She has been Practicing Implant dentistry since 2011, She has volunteered in free clinics, providing care for the less privileged and has experience in dealing with patients from all age groups with a multitude of concerns.
Dr. Shwetha K is committed to continuing education and remaining aware of the latest advancements in oral health and dentistry. Dr. Shwetha went to acquire higher skills in advance Implant Surgery & Oral Rehabilitation from TITU MAIORESCU UNIVERSITY BUCHAREST, ROMANIA in 2016. She further went onto complete post graduation in Oral Implantology from MCODS MAHE University Manipal 2017. Fellowship in International Congress of Oral Implantology. Dr. Shwetha K practices by the principle of minimally invasive dentistry and patient comfort. Her area of expertise includes Veneers, Bonded esthetic restorations, Root Canal Therapy and Dental Implants. Dr. Shwetha K has also been trained in various other disciplines of dentistry like Esthetic/Cosmetic & Laser Dentistry. She follows and propagates a unique method of practice which is a combination of gentle and effective Technology, Quality and Affordability. Dr. Shwetha is also the Director of Dr. Shwetha's Academy for Dental Assistants (SADA) that has been created in collaboration with the state of Telangana specifically targeting the upliftment of socially backward community in the State of Telangana. SADA's mission is to create a pool of dental assistants from the targeted community in a rigorous theoretical and practical training. SADA is also committed to provide employment & Placement to the enrolled candidates who successfully complete the training.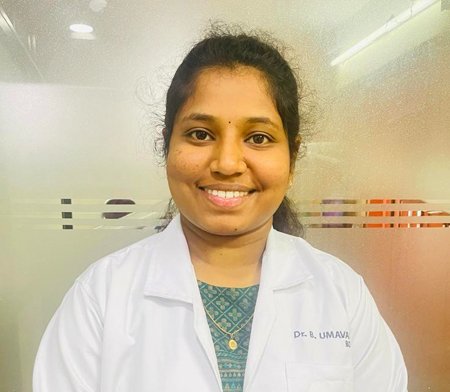 Laxman Aelay
I highly recommend Dr.Shwetha to any one seeking dental procedures. The doctor and her staff are very professional. My wife and I visited her for root canal, dental implants and caps. We are very satisfied with her work. Thank you to her and her whole team.
snehitha goud Muthyam
This is the best experience. I have done PRP for my hair now the hair loss has been stopped And The regrowth has started.Their is no side effects throughout the treatment. Especially The creams are working magically for face
Padma Goud
I'm very happy with the treatment. Treatment is very nice.This is a great place to go and take care of our teeth. Dr. Shwetha was very professional in examining and providing with solutions. Everything was on time.No other Dental care institute will be like this in and around Hyderabad,I felt that I was in good hands would highly recommend to anyone!!! Special thanks to Dr. Shwetha mam
Karan Coolguy
Superb dental care with good staff which takes care of you and follow up with you before every appointment. I would recommend everyone personally to visit this place. One of the best dental hospitals in Hyderabad. I was afraid of treatment but because of Swetha mam I was able to overcome fear and finally smile was what I found. THANK YOU very much.
Get In Touch
Dr.Shwetha's Dental and Skin Care Clinic
9-4-84/15 Plot No 15, 2nd floor,
Nanalnagar X Rd, opp. Olive Hospital,
Rethibowli, Mehdipatnam,
Hyderabad, Telangana 500008