Dr Shwetha's Clinic
Dentures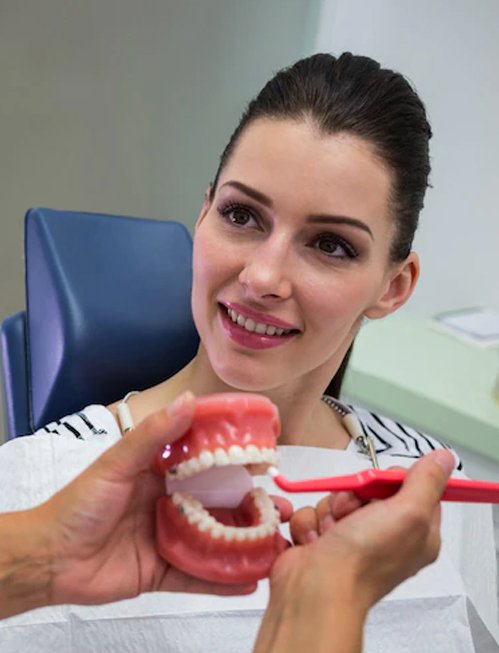 Dentures are a type of dental restoration that are used to replace a full arch of missing teeth. There are two main types of dentures: complete dentures, which are used to replace all of the teeth in the upper or lower jaw, and partial dentures, which are used to replace a smaller number of missing teeth. Dentures can be made of acrylic resin or a combination of acrylic resin and metal.
The process of getting dentures typically involves several visits to the dental office. During the first visit, our expert dentist will take impressions of the mouth and make a mould to be used as a model for the dentures. The dental professional will also take measurements and make any necessary adjustments to ensure that the dentures fit properly.
Once the dentures have been made, the patient will return for a fitting appointment. Our dentist will adjust the dentures as necessary to ensure a comfortable fit. It may take some time for the patient to get used to the feel of the dentures, and the dental professional will provide instructions on how to care for the dentures and address any issues that may arise.
It is important for patients with dentures to practice good oral hygiene by brushing and flossing regularly and visiting the dental clinic for regular check-ups. Dentures may need to be adjusted or replaced over time due to normal wear or changes in the shape of the mouth.
Dentures are a highly effective solution for replacing missing teeth and restoring oral function. If you are considering dentures as a treatment option, we encourage you to schedule an appointment with a Dr. Shwetha's dental clinic at IRIS diagnostic today to discuss your specific needs and concerns.