Dr Shwetha's Clinic
Sun Damage Treatment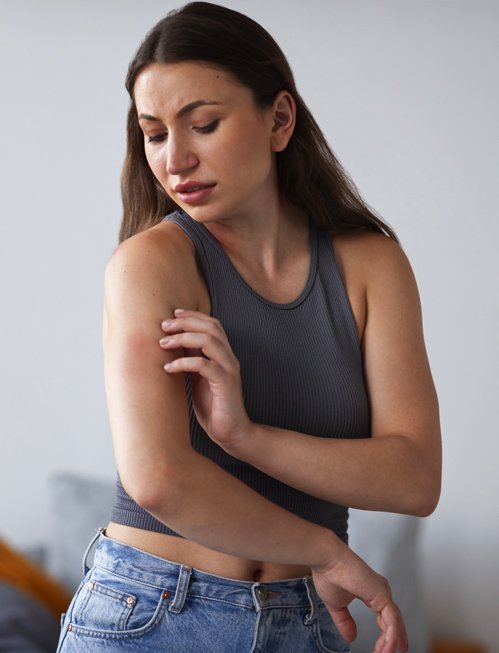 Sun damage or Tan is a common skin issue that affects people of all ages and skin types. It can cause discoloration, wrinkles, dark spots, and other visible signs that can make you look older than you are. Fortunately, there are several treatments available to address sun damage and help restore the health and appearance of your skin. At Dr Shwetha's Skin care clinic, we can help you get rid of that pesky sun tan and leave your skin looking and feeling refreshed. We are experts in our field with years of experience in the skin care industry. Our treatments are safe, non-invasive, and designed to provide long lasting results so that you can enjoy the summer sunshine without worry.
One of the most effective treatments for sun damage is intense pulsed light (IPL) therapy. This type of therapy uses high energy pulses of light to target damaged areas on the surface layer of the skin. IPL works by targeting pigment cells in the epidermis, damaging them enough to trigger new cell production without causing any pain or discomfort. The treatment helps reduce age spots, sun spots, freckles, rosacea, wrinkles, and other visible signs caused by sun damage.
Another popular option is laser resurfacing treatments. These treatments help remove damaged layers of skin while stimulating collagen growth beneath the surface layer to reveal smoother, younger-looking skin with fewer signs of sun damage. These treatments can be used on large areas such as the face or smaller areas like around the eyes or mouth.
Topical treatments can also be effective in reducing signs of sun damage and providing a soothing sensation to affected areas. These serums also provide moisture to dry and damaged skin as well as brighten uneven complexions caused by sunspots or melasma.
At Dr Shwetha's skin care clinic we strive to provide superior customer service while delivering quality results at an affordable price point. All products used in our treatments are carefully selected from trusted industry leaders who specialize in offering safe and effective skincare solutions for a variety of skin types and conditions. Call us today for a consultation.